Ujicha is cultivated on the bedrock of a long history and time-honored traditions. Even today, tea touches the lives of Kyotoites on a daily basis and is ingrained in our collective cultural consciousness. This section was designed to share a little bit of that culture and history with you.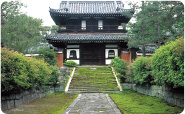 Founded by Zen master Eisai, Kenninji is one of the oldest Zen temples in Kyoto City. Eisai was buried on the temple grounds, and the anniversary of his death is commemorated in a ceremony in which the head of the Urasenke Tea School places tea offerings at the foot of Eisai's statue. An ancient rite called the Yotsugashira Chakai is also held annually in commemoration of Eisai's birth.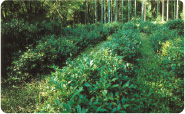 Located in the town of Toganoo in Kyoto's Ukyo ward, Kozanji Temple was founded by High Priest Myoe. After receiving a few tea seeds from Zen master Eisai, Priest Myoe planted them on the temple grounds to realize Japan's first and oldest tea field.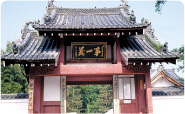 Manpukuji is the head temple of the Obakusan Zen school founded by Ingen, a Chinese priest who was invited to Japan to offer his teachings during the Ming Dynasty. This temple is famous for its exotic Ming Chinese style architecture and for the Haiku engraving found at the gate: "I opened the gate. The song of tea pickers was there to greet me. Spring is here in Japan." A famous priest of Manpukuji earned the nickname "the old tea seller" from his prosperous dealings in tea grown at the temple. On July 16, the anniversary of his death, a Sencha tea ceremony is held within the precincts of Manpukuji.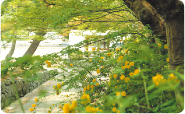 This temple was founded by Zen priest Dogen of the Soto Zen school and its architectural design shows a strong Chinese Zen influence. As you walk along the slope leading from the stone entranceway to the Chinese styled two-tiered gate, the gurgle of streams flowing on both sides of the slope fill you ears like the sound of a Koto harp. Hence this path was aptly nicknamed "Koto Slope." On the first Sunday of October, the Ujicha Festival is held on temple grounds with various ceremonies that include tea offerings.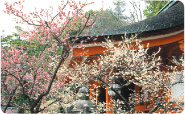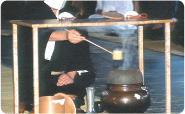 Every year on November 26, the Ochatsubo Hoken Hokoku-sai festival takes place at Kitano Tenmangu shrine. There, the leaders of various tea schools use carefully selected teas to make offerings in the inner shrine area, and the first pot put forward is always reserved for Shohokuen tea. Chosen first from among countless tea makers for this "Pot Offering Festival" is a distinguished honor that speaks of the renowned prestige of the Shohokuen name.